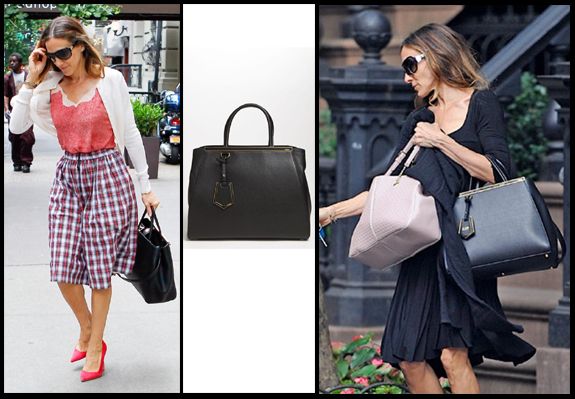 I loved the series and was afraid I would hate the movie but it was as if the show never ended, the girls slipped back into their roles without missing a beat!
But please do not expect any earth shattering performances, the cast, after all, is merely prop for all the fabulous gowns, shoes and bags! Carrie by far had the best bags with the exception of the Eiffel tower clutch in the opening scene from Timmy Woods.
Charlotte unsurprisingly played it safe with totes, from Chanel to the Biern Jenna you guys went nuts over, with a pop of color from a ruched satin Prada clutch and a Valentino satchel in red with roses across the top. She did have one crazy bag, the Fendi furry mess.
Samantha was her usual colorful self. Miranda had a nice selection of diverse bags. Carrie had several Chanel bags on her arm throughout the movie. The classic flap bag which she wore long with one single chain a la and the tote with patches. This is the one she carried to Fashion Week with the girls. Not my favorite but it was flashy and appropriate for the occasion. She is supposedly showing her love of Paris but whatever— the bag is costumey and kitschy, definitely not my cup of tea— and the price is beyond ridiculous!
She was wearing fabulous Dior gladiator platform shoes, though. This is one of my absolute favorite bags from the movie. At the risk of sounding like a fashion victim, I really want it! Miranda not my favorite character had it swinging from her arm in one of the group scenes and it is a scene stealer!
We adore the top zip satchel and ordered ours in all croco, mine is the smaller size. You can also order the matching croc and studded dog collar and leash! Our intern, Anne, was enamored with this bag months ago before she knew it was on SATC, our young and hip intern is so ahead of trends! Thank you to all the PR reps who supplied us with the fabulous photos.